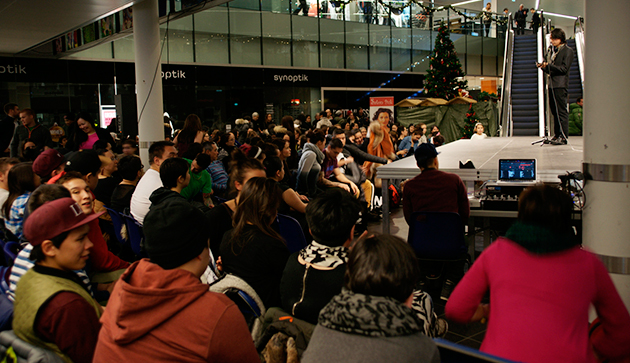 Fashion show in Nuuk Center
By greenland today
About 250 paying guests got their money's worth, at a well organized fashion show put on by the shops in the mall, showing all the newest trends.
Models rolled down the escalator to the podium, like an impressive string of beads with approx. 25 seconds between each model.
Trendy mix
The many shops showed, that Nuuk, diffinately is up to date with the latest international fashion trends, in everything from the most fancy dresses and suits, to everyday and outdoor clothing in bright colors.
Underwear and furs were a big hit amongst the audience, and it even featured children's and maternity clothes. In other words, it was diverse show with something for every age and taste.
Big Event
The prep work for the fashion show was quite the puzzle, as it included 40 models. A fashion show includes getting the models ready, which can take hours. Several of the female models had hair and make up done at Salon Marie and Salon Puk, with help from professional make up artists.
– We let the younger generation in the stores run the show, and I am very pleased with the result, said the center association chairman Stefan Ittu Hviid with a smile, after the successful event.
Nuuk Center Association President Stefan Ittu Hviid, who's son was a model in the fashion show.
Prior to the fashion show, a lot of hours was spend on styling of hair and makeup.
Rikke Christensen from IttuMan (photo) was with Ingo Hansen from Eskiman the driving forces behind the fashion show.