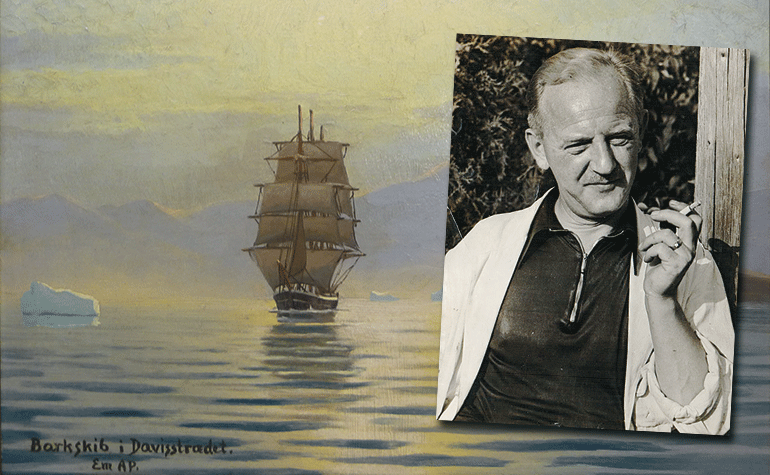 Many people have travelled in the Arctic and have attempted to describe what they saw in words and pictures, but few of them have understood how to reproduce the unique, rich 
colours that are found in Greenland's nature as well as Emanuel 
A. Petersen.
Text: Mads Nordlund. Photo: Galleri Roar Christiansen & BM-Grafik
Since the start of the 1800s, we have known how to expose a plate with a specific surface to light and then to chemicals so that the plate preserved a black/white image of the motif – a so-called photograph. It took 100 years to improve the technique sufficiently to preserve evidence in the form of pictures. Of course most of them are from special events and places with many people. When it comes to Greenland and other, more remote Arctic regions, not many photographs were taken until more recent times. Paintings therefore play an important part in the pictorial description of the past. One of the most well-known Greenlandic artists from the last century is the Danish painter Aage Emanuel Petersen, who lived from 1894 to 1948.

House painter
His father was a clergyman and did not approve of his son's creative efforts, but Emanuel managed to become an apprentice house painter. After he completed his apprenticeship, he got a job at Royal Copenhagen when he was trained by a marine artist. So it was as a marine artist that Royal Copenhagen sent him to the Mediterranean. After returning home, the young Emanuel was 
unable to settle, so he left his job and tried to find passage southwards on an A.P. Møller Maersk freighter. There were no ships sailing southward in the near future, but he was offered passage on a ship sailing for West Greenland and he accepted. Thus fate took him to Greenland for the first time in 1921 and the rest is, as they say »history«.
In love with Greenland
Emanuel was enthralled by the nature and colours of Greenland and he produced many paintings. Four years later, he returned with his family and they lived for a year in Ilulissat. Here, his eye for the quite unique light in Greenland was sharpened and he took part in many dog sled trips which were all depicted in his paintings.
In all, Emanuel A. Petersen spent six years in Greenland, from 1921 until 1935, travelling to most of the inhabited places in Greenland. He had a great love of Greenlandic flora and fauna, nature, the people and the great hospitality he met everywhere. This is seen in many of the great landscapes he painted, where there are often people in the foreground.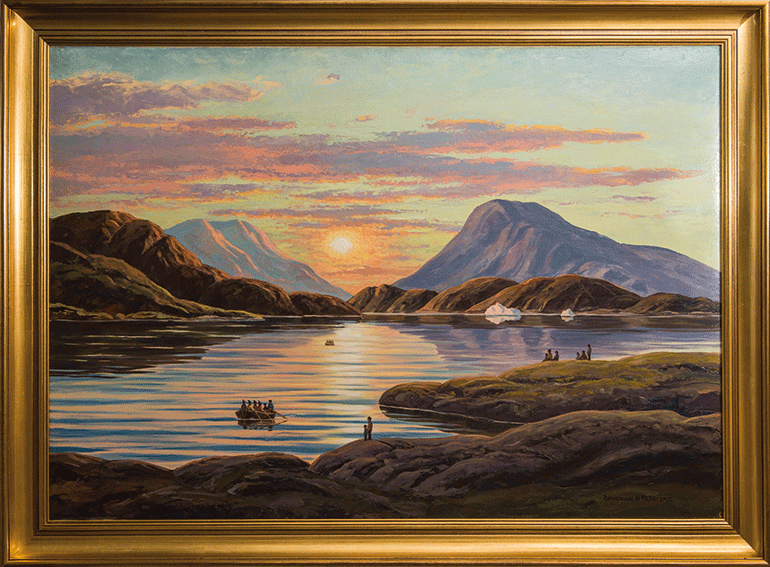 Greenland artist
Emanuel was not satisfied with his first paintings of Greenland, but he continued throughout his life to refine his style and colour representation. As a decoration and marine artist he was particularly good at depicting the water and the details. He continued to develop throughout his career, from being very natural in style to using a freer artistic style, but always with respect for the colours and the quite unique light found in nature.
His training was of great benefit with regard to his many sketches where precise colour codes made it possible for him to paint pictures of Greenland, even though he was in Denmark. Here almost 100 years afterwards, one of the reasons for the continued interest for his paintings is probably the recognition everyone who has experienced Greenland's natural phenomena feels, when they see his paintings.
His paintings were exhibited in several countries around the world, making him a good ambassador for Greenland. He painted about 2,000 paintings of many of the places he visited. This was from a time where there were no photographs, so his naturalistic paintings were significant for documenting Greenland. Today they have great cultural value as almost »photographic« witnesses of times past.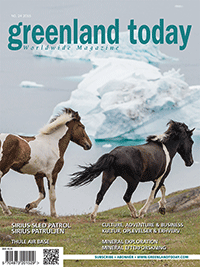 Read the story on page 19