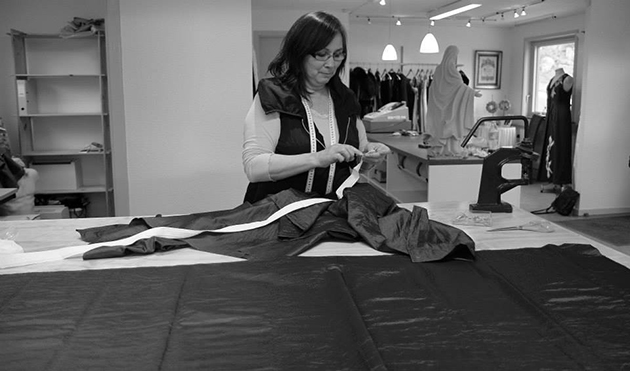 Else Lennert. Photo: Nuka Kristiansen
A designer finds her way home
19 OCT 2013
Else Lennert has lived 38 years of her life in Denmark, where she amongst other things had her own boutique for 11 years.
– I moved back to Sisimiut in 2010, and the first couple of years was very challenging.
– There are of course many things here, that are very different compared to living in a big city in Denmark, Else Lennert says.
Photo: Nuka Kristiansen
Unique design
– I primarily design clothes for women, but have a few collections for men as well.
– My greatest passion is to create gowns/dresses and wedding gowns, but there is a limited market for that in Greenland, so I design anything from dresses to coats and vests.
– The unique part of my design is that I always combine fabric and sealskin, Else says.
The opening of the boutique in Sisimiut. Photo: Ane- Sofie Skifte
Always on the go
– I do not have any employees so far, but I hope to be able to employ a seamstress as my business grows, Else Lennert says.
– I work at the local hospital during the day, and open my store from 4-7pm monday through friday, saturday from 10am to 2pm.
– In the evenings I continue to sew at home, and the customers come by for fittings.
Photo: Nuka Kristiansen
Workshop & boutique
– My boutique also function as a workshop, so people can come and have anything done, from repairs to unique designs.
– And of course I have my own collections by »Lennertdesign« available at the boutique, Else Lennert ends.
Photo: Nuka Kristiansen