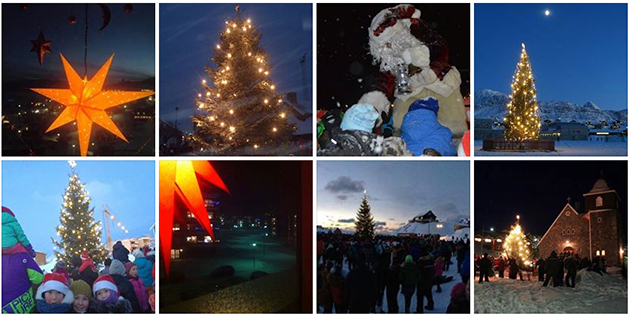 Christmas in Greenland is a lovely time
By greenland today
24 DEC 2013
There is (almost) always snow in most of Greenland in December, which helps to create the right Christmas mood.
Traditions
Greenlanders have throughout history combined the best traditions and developed them to their own.
Christmas came to Greenland in the 1700s with the Christian missionaries. For many, church and Christmas service still is a big part of Christmas.
Later Herrnhuters came with the orange Christmas star that is seen in many windows at Christmas.
Photo Nuno Baadh Hansen and Niels Joelsen Heilmann
Christmas Tree
The Christmas tree came to Greenland in the late 1800s. Most cities have a Christmas tree in the middle of the city, and come together to turn it on in early December.
In the beginning was the Christmas tree home made of twigs, heather and moss that was put on a stick, so it looked like a fir tree. Today, the trees are purchased from Europe.
Photo Aleqqa Hammond. At the home of Prime Minister Aleqqa Hammond, the Christmas tree is made in the traditional manner.
Most people decorate the Christmas tree December 23 in the evening when the kids are in bed.
In this way, the children wake up on Christmas Eve December 24 to a beautiful Christmas tree full of presents under the tree.
Christmas lamb. Photo Margrethe Løvstrøm Kleemann
Christmas food
There is a big difference between what you eat on Christmas Eve, depending on where you live in Greenland.
Reindeer, lamb, musk ox, hare, razorbills, grouse, halibut and whale steak are among the favorites.
Duck and pork roast is also eaten in several places as a main course or supplement to Greenland's own food.
Christmas Committee Upernavik has gathered and shared Christmas bags to people in need who get a little extra help at Christmas. Photo Knud Kristiansen
Light in the darkness
There are many who think of anyone but themselves for Christmas, and sharing food and gifts to others who do not have much.
The Christmas lights switched on for the dead in the cemetery. A beautiful and moving tradition. Photo Gert Hansen. Photo Karl Bidstrup.
We wish all our readers in Greenland and the rest of the world a very Merry Christmas
greenland today
Lucia procession has been in Greenland over the past 40 years. Photo Toke Brødsgaard
The Christmas brings together families, who often have to fly or sail in order to bring everyone together. Photo Gina Kislov.