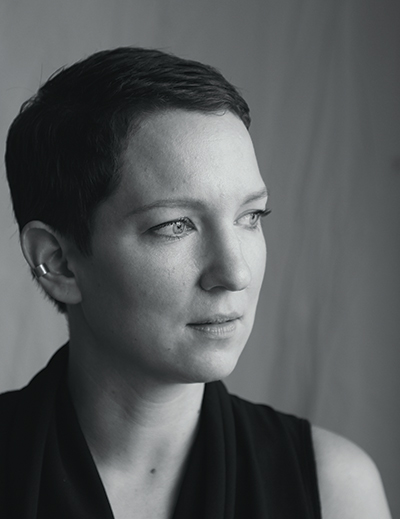 Art that means something
As an artist, Bolatta Silis-Høegh has attempted to mix American pop culture with her own Greenlandic culture – the absurd with the humoristic – and recently, with something some people might call political views. Regardless of what it is called, her works brings out 
different feelings in everyone who sees them. This is an art in itself.
Text: Mads Nordlund, greenland today November 2014
Bolatta Silis-Høegh comes from South Greenland where she was born in 1981 in Qaqortoq. She lives on Vesterbro in Copenhagen with her husband Emile Hertling Péronard and their two children, Isamu from 2011 and Sila from 2012.
The apartment is bright, cheery and open, just like the people who live here. From the living room there is a peek into the children's room, with handed-down Lego Duplo blocks and although it is clean and tidy, there are small signs everywhere that a family with children thrives here. In the cosy kitchen there is a balcony facing a green yard and most of the food on the shelves is organic or produced sustainably. The couple that lives here has obviously taken a stand.
– My biggest gift in life was meeting my husband, explains Bolatta, instead of starting by talking about herself.
– We have a good energy together. He is also creative and he can do technical things, I can't. With him I can do and make things I couldn't before. Emile is also good at languages and superb at expressing himself. And he's good-look-ing too, she adds with a smile.
– I am very bad at expressing myself verbally and he gives me that extra lift. I can see a little of my parents in my relationship with Emile. They also have two fields of work, but they have always worked well together, so history is repeating itself a bit.
– My family means everything to me, although I often want to throw them out of the window. Being an artist, I am probably selfish and need personal time, but family is definitely the most important thing, states Bolatta.
It is not far from the cosy apartment to her studio. Here, she has her every-day work with canvasses, brushes, paint pots and whatever else is needed to create the metre-high and metre-long paintings that presently fill her universe.
Copenhagen versus Greenland
– I like being alone. I can't do that in Greenland, where we are close to friends and family. I love that too, but it's not good, when I need to concentrate.
– We have made plans to move several times, but with the former government I did not have the energy to be there. Some people might think I ought to go home and fight and I would like my children to experience the freedom of growing up in Greenland.
– I just don't think I have the energy for it; so rather »scream« from here. I could not have painted the last exhibition if I had been in Greenland. We go back many times during the year and we can stay as long as we like.
– It's very nice here in Copenhagen, although the big city can be tiring. I always have Greenland and its nature with me in one way or another in everything I do. I save water and hardly ever use plastic. I recycle and never throw food out. I think I always have nature in my thoughts in more ways than just longing for the fells and fresh fish.
– In Greenland, I know every rock and I can walk around with my eyes closed. Of course I miss the fells, the weather changes, autumn when everything is fresh and berry-picking.
– Yes, we will probably go home in a few years, says Bolatta.
Queen of Denmark
One of Bolatta's first exhibitions outside Greenland was »Den røde snescooter« (The Red Snowmobile) from 2005 at The North Atlantic House in Copenhagen, where she exhibited a series of works together with other Greenlandic artists. One of the works included both Mickey Mouse, the Danish queen and a skull.
– I tried to mix something absurd: American pop culture with our Greenlandic culture. I have used the queen a lot because I think she is an icon in a good way. It's always fun to have her in my art, it provides a dimension that perhaps has nothing to do with the rest of the picture, she explains.
– I don't know why I have fallen for the queen, but she is in a lot of my old stuff. It's weird. In Greenland we are independent, but we love the queen. I have met her at some of my mother's exhibitions and I have shown Prince Henrik round one of my exhibitions, where the queen was in some of the paintings. He found that amusing.
– I liked that exhibition. I have probably always tried to go in new directions. Previously, I wanted to do something that was different. Now, my driving force comes from inside and I couldn't care less what it is like, compared to other art.
The allotment garden
In 2010 she was given an award by Statens Kunstfond for the piece »Haveforeningen Sisimiut 2068«(Allotment Garden, Sisimiut 2068), which with its humorous approach to questions such as climate change, »Danishness« and »Greenlandishness« shows a future tropical allotment garden environment with a sealskin bikini on the washing line and a front page from greenland today in the year 2068 with, among other things, the Summer Olympics in Greenland.
– For me, it is the process of creation that is fun. Everything that comes after is fine and it's cool to have recognition, but that's not why I make art, says Bolatta thoughtfully.
Climate & gravity
– I have always worked with climate change as one of my themes, but always as something grave hidden behind the humour. Perhaps I didn't dare to be too serious in the beginning. We Greenlanders, we laugh all the time, but we don't express our anger so much.
– The revocation of zero tolerance for uranium in Greenland had a huge effect on me. After I became a mother, I probably also have the nerve to do more and I am more in contact with all the sides of myself.
– As a child I was quite serious, but later I adjusted and became more »socially correct« for a while, she says.
– Now I dare to be myself in my art – the real me. Or perhaps I am a child again in a different way. I have more to fight for now.
A room for the Biennale
Bolatta was commissioned for a job. She was asked to design a typical Greenlandic living room, where it was possible to see history and religion, and progress, present and past.
– I based it on the living room of my good friend's grandmother. So through the pictures on the wall, you followed his family – mother – birth – first school day – confirmation – student – Christmas – sweethearts – work etc. It was all hung up in chronological order in the way a grandmother would do it.
– It was fun to do and it was the first time I didn't have to do it all by myself, but could dictate how it was to be done, because there were 10 architects to help with everything. Unfortunately I couldn't go to the Architect Biennale in Venice where the living room was displayed because my pregnancy was very advanced. I would like to have been there, because I thought the whole set up, including the pictures, was a little too tidy, says Bolatta.
Legacy from home
Her full name is Bolatta Tatjana Paarnaq Silis-Høegh which indicates she is the daughter of the acclaimed Greenlandic artist Aka Høegh and the equally acclaimed photographer Ivars Silis. Bolatta and her brother Inuk joined to make the exhibition »It stays in the family – Quadraphonic« as four sound tracks which become one. It was a super collaboration remembers Bolatta.
– I am not an echo of my parents, but a product of the two. My parents are from opposite poles and I am probably somewhere in between.
– They have never tried to get me to go in any specific direction. They only once asked me, if I wanted to study medicine. I think it was out of love, so that I should have a more secure life than that of an artist.
– I have since tried to go in all sorts of directions, perhaps to convince myself, that I can do other things.
The parents
– There were only advantages to being Aka Høegh's daughter.
– I don't feel I walk in my mother's shadow or that I have been pushed in any specific artistic direction. I am just as influenced by my environment.
– And I am so very proud that my mother puts her soul into whatever she does. It's cool to have a mother like that.
– It would be different, if people compared what we do, but we like to do very different things.
– I am also hugely proud of my father and I am becoming more interested in my Latvian background. I will always be from Greenland, it's where I come from, but now I have children of my own, I am more interested in my father's history. He has experienced war – something I never give a thought to – he has been a refugee and his little brother died of malnutrition. His father – my grandfather – was in a concentration camp.
– I am much more interested in my Latvian family and origins now that my father has published his interesting memoirs and I have a 94-year old grandmother in Malmö.
– My father is a photographer and as a teenager I wanted a camera. I was given a single-use camera, so you can't say he pushed me in that direction, she smiles.
Big brother
– I have always looked up to my brother Inuk, who is nine years older than I am. He has just come out with a documentary about »Sume«, the rock band, and he has done a lot of performing art.
– I think we have found a mutual respect for each other after we exhibited together, instead of the childhood little sister / big brother relationship.
– I think what he does is profound, interesting and fun.
Modern art
– It's hard to put me into a particular category, because I have done so many different things in my time; installations, paintings and room decorations.
– I left the traditional Greenlandic motifs behind, perhaps because I always wanted my art to be modern. I don't know. I have never dared to dream that it would become anything big.
– I have always been extremely selfeffacing with what I do, but now that I feel I have got a hold of something essential, I do have dreams, smiles Bolatta. It's more about how my art now comes from my heart and I would like it to be more widespread than just Greenland and Denmark. I want people to have to travel a long way to see my art. For example, to the top of a mountain, not just to a particular art museum.
Making her own way
– I have always had an eye on the artist Egon Schiele. He only lived to be 27. His work was damned good and it still is. I keep going back to him. Of Greenlandic artists, I am wild about a combination of the artist Ane Birthe Hove, who had really good technical skills and my mother, who works more with her soul.
– I feel that I have taken a huge leap with the last exhibition. This is where I am now and although I haven't painted for several years, this is where my heart lies and where I can best express myself.
– Perhaps I have just let things happen or followed the invitations I received, but now I am going to make my own way, states Bolatta.
Lights on – Lights off
The most recent exhibition was called »Lights on – Lights off«. It was in part a reaction to the Government of Greenland's decision to revoke zero tolerance for uranium in Greenland and to some of the darker sides of Greenland.
– I had a physical reaction when the zero tolerance was revoked. I lay in bed for two days and thought that it was crazy to have such a reaction, but I also found out how much I love my country.
– As a person, I am rather vulnerable and I probably have fewer defence mechanisms than others, since political decisions can have such an effect on me.
– So I took my anger in my hand in the form of a brush instead of keeping a lid on my feelings. This gave rise to a lot of negative thoughts about things we don't talk about in Greenland, e.g. abuse, violence towards women etc.
– There is so much, we turn a blind eye to, just like the decision to revoke zero tolerance which was taken without debate and without consulting the peo-ple. There are things we heard about as children; rape, a woman was murdered in front of the supermarket when I was a child and there was still blood on the wall when we went shopping later the same day.
– I have seen and heard a lot of things that I cannot let go of. When I became angry, bitter and frustrated, it opened up for some of those experiences.
– We have experienced so much as a society which we have not dealt with publically. In my paintings, I use the female body as a symbol of nature, the nature we are now vandalising.
Mining
– We ought to be able to discuss our problems. People have to say what they mean now, not after the mines have opened, believes Bolatta.
– I think you have to use the beauty and do the exact opposite of uranium mining: Eco tourism for example, instead of potential destruction.
– I don't know anything about the technicalities of uranium mining, but ignorance brings fear. I don't know what effect it will have on the population, but you can't see radiation.
– Today, we can see the mountain in the beautiful town of Narsaq, but what about the future? I don't understand that it is possible to buy people in the way those who are in favour of mining apparently have been.
The future
– There is hope if we start to look in other directions. Look at what we have in a new way. The world's most beautiful country, the purest products, slow growth, wonderful flavour, sea salt, seaweed, all in all a pureness that isn't found anywhere else. All these opportunities won't be there, once the uranium dust is over us.
– No-one is going to come and rescue us. We have to go our own way by using nature, as we always have, in a new way instead of spoiling it.
– My art is a declaration of love to Greenland and a call to protect nature and the way of life we have always had, she says.
– I'll be an artist until I die, but I also want to be many other things and I always see plenty of opportunities. My big dream when I was a child was to be a designer. Perhaps I'll work together with someone one day and protect the environment by making clothing that can last more than six months.
Wishes for Greenland
– I wish people had more drive. That in future they would say: »Now I'm damned well going to do something for my country«, instead of waiting for someone else to come and do something. Everyone can do something cultural and many of our products are fantastic. With better branding and closer cooperation we can create something new and better.
– I think about some of the big companies. There are probably some artists here, who could make beautiful things that would appeal to Europe and the rest of the world, so they could sell more.
– Let's look at the fantastic things we have in Greenland in a new way.
See the articel from the magazine here art_that_means_something