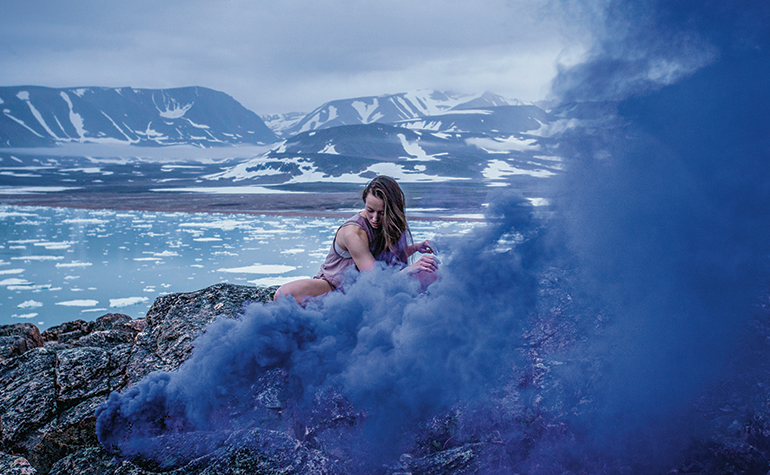 What makes a dancer and a photographer throw smoke bombs on the East Coast? We try to find the answer in this article.
Text: greenland today, Photo: Ena Kurtagic Granulo, greenland today November 2015
– When we started the project, it wasn't with a specific goal. We just had an idea and wanted to create something new. 
We both have a special bond to Greenland. I am part Greenlandic and have always felt a special connection to the island; it's nature and culture, Sarah tells.
– Greenland was the perfect field to experiment, to try to put together three different things that are in constantly evolution: the nature, so wild, magnificent and pure, the smoke, so colorful, evanescent and optically powerful and the dance that for me is so compelling, even more than other arts. Dance is »like saying many thing without saying a word«, says Ena.
– Greenland was the perfect place to make this project come alive. The project was quite spontaneous, but then still full of meaning and passion. We didn't plan much and the conditions weren't the best ones. The smoke bombs we used only last 60 seconds (minus 10-20 seconds to light it and go to our places), so we had to get the pictures in less than one minute, Sarah explains.
– Ena had to run around to find the right angle, depending on the wind, the smoke would get in the way and it was impossible to predict. I also had to account for the smoke, while I was dancing (improvising) in shorts and without shoes, trying not to freeze my toes off.
– Then of course there were »problems« like the smoke bombs exploding and polar bears in the area.

Experiment
– Experimenting is what I love the most in photography. It's been a while since the idea to try to use the smoke flares/bombs as a subject popped into my mind. Probably I was waiting for the right person and the right place, and finally the perfect bond between these two elements came this summer in Greenland, says Ena.
– What I love the most about smoke flares/bombs is that they can work in a variety of situations providing an unique aesthetic that can give an extra kick of interest to the pictures.
– On the other side they are really difficult to control but this problem can be seen also as a great chance to be absolutely free to experiment, having no rules and trying just to catch the perfect moment.
– It means being spontaneous, trying to have attentive and inquiring eyes and capture a moment that is unique, is not repeatable because is a fortuitous mixture of several elements that will never come back again. It means being curious, trying new techniques even if you have just a basic equipment, following the intuition and looking for the spontaneity. This is my way to improve my photography skills and to try to create interesting pictures, Ena explains.
Synergy at a higher level
– Both of us are very passionate about what we do and found something magical in our way of sharing ideas together, Sarah says.
– In some crazy way we met each other and built a strong friendship, despite living in different countries. If you're lucky enough to meet someone with a special connection and to share a passion with, I'm pretty sure that the outcome of the collaboration will speak for itself.
– I think that one of the most important words in the world is »sharing«, says Ena.
– We have become really good friends, I'll say more kindred spirits, and we both share a big passion for what we do. When we mix our two worlds, that is really unique.
– It is said that happiness is real only when shared, and it is true. When you do what you love the most, when you create, when you try to find new inspirations and you are not alone, you can definitely feel the difference.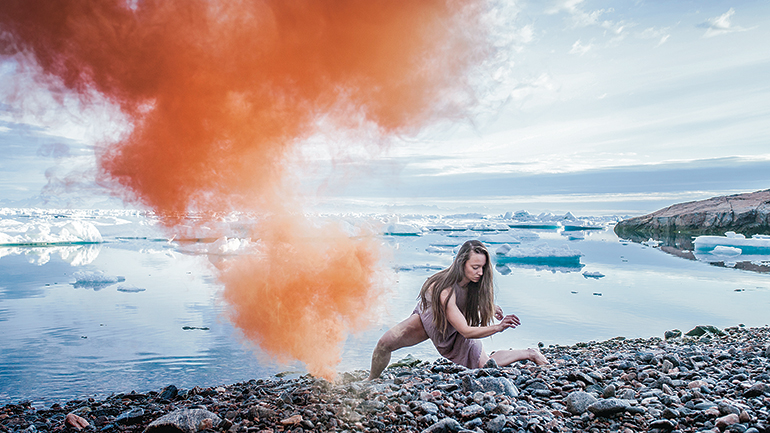 Contrast
– Considering it was impossible for us to plan the pictures, it makes each picture even more special. It's truly captured in the moment, in the wild nature of Greenland.
– The mix between the smoke bomb, the dancing, and the pure nature of Greenland, together makes something new and interesting, means Sarah.
– For me it was an amazing and funny challenge, because at the end, when you get it right, it's worth the effort.
This project probably is the best example of what the photography means to me, concludes Ena.
– Hopefully this will give more attention to Greenland as a destination, and make more people realize what an amazing place it really is, Sarah concludes.
   Read the story one page 12-13