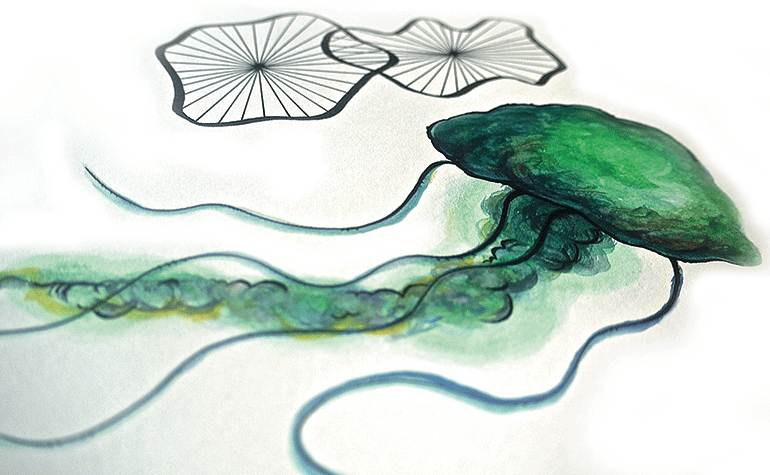 Not only officially recognized artists are noticed in Greenland. You meet people everywhere who are creative in one way or another.
Text: Mads Nordlund, greenland today November 2015
There are no statistics relating to the proportion of artists in a country's population. But Greenland is without a doubt one of the countries that has the highest number of creative people per capita.
It is quite usual for people who have a perfectly ordinary day job to be good at singing or playing a musical instrument in their spare time. Not just for fun, but actually good enough to have played with a band once or still to play to bigger or smaller audiences.
Arts and crafts
Many people in Greenland are also good at using their hands for sewing, drawing, painting or carving in driftwood, reindeer antler or bone – often with quite unique results.
Many people work professionally on a daily basis with handicrafts at workshops or they design clothes and other things in the sewing workshops. But all of the examples we have found and show here were made by people who only practice their creativity as a private hobby or who »just wanted to have a go« at painting a single painting.
Afterwards, we asked some of them what they do and why. We chose to show others as examples and we thank everyone who agreed to take part.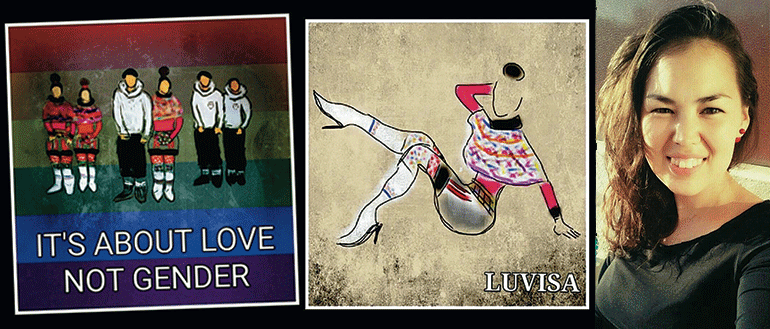 Luvisa
Luvisa Petersen was born in 1987 and she grew up in Qasigiannguit and Nuuk. She is now studying public administration in Næstved in Denmark. She doesn't think she is very good at wielding a paintbrush, so she makes digitized pictures.
– The first of them were only small gifts for family and friends. Now, I also make them as prints on canvass for sale and I work with a company that intends to begin by selling some of them as 
fridge magnets, says Luvisa.
– I keep getting new ideas that I haven't used yet. It will always be something of a hobby and just small projects.
– Now we'll have to see how it goes. Otherwise, there will just be more to decorate our own home, ends Luvisa.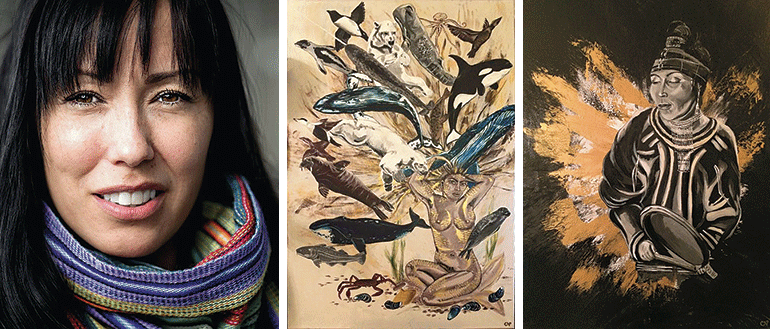 Camilla
Camilla Nymand Petersen was born in 1980 in Nuuk, where she still lives. She is a professional psychologist and she works with children and young people.
– I haven't done any art before, but I have always been creative, done some drawing, some work with pearls, clay and the like, says Camilla.
– The paintings are acrylics. I painted them because I wanted to, but I have no secret desire to become an artist. If I had the time and money, I'd like to go to art school and learn properly. I have just done my best.
– I have sold some paintings and given some away as presents, ends Camilla.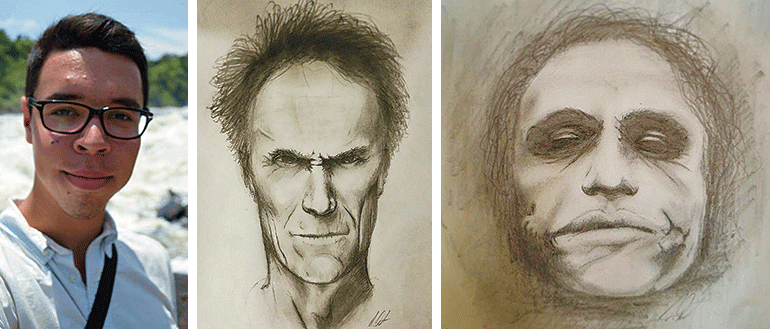 Iggiannguaq
Iggiannguaq Juhl Petersen was born in Copenhagen in 1990 and he grew up alternately in Denmark (Copenhagen/Hillerød) and Greenland (Nuuk/Aasiaat).
– I live in Copenhagen now and I have lived here for the past five years. I am studying public health sciences at Copenhagen University. I also have a job as a student counsellor for my line of study.
– I drew a lot when I was younger, but in recent years I haven't done so much.
– My pictures were drawn with pencil on paper and I based them on photographs. It was procrastination while I was studying for exams, he says with a smile.
– When you have been sitting and studying for a long time, you need to clear your thoughts and focus on something else. Drawing worked well for me, continues Iggiannguaq, who has no immediate dream of becoming an artist.
– I have always liked drawing. However, it has always been a hobby more than something with any actual artistic purpose, ends Iggiannguaq.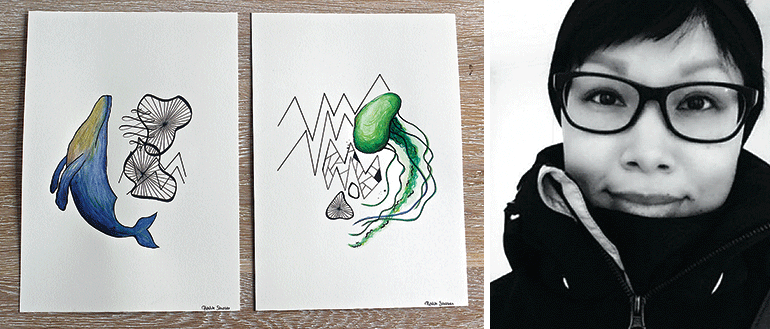 Pipaluk
Pipaluk Silassen was born in 1986 in Qaqortoq, South Greenland. Later she lived in Nuuk for ten years and in Aalborg in Denmark for another ten years before moving back to Qaqortoq in 2005, when she was apprenticed to the Nujaleriffik, hairdressing salon.
– I own my own hairdressing salon, Salon Pipa, and I am also co-owner of INUACARE – Greenland in a bottle, says Pipaluk.
– I haven't done any art before, but I have done a lot of drawing. I started with ink drawings of owls and flowers and progressed to Greenlandic mythology and animals. I have recently started using water colours. I love colours and that is the way I want to go; big pictures with plenty of colours and Greenland's mythology. It is exciting and challenging.
– I relax when I sit and draw. When I start a drawing, I can imagine how the ending will be. It is a way to be myself, but also a way to express my feelings.
– I would like to take an art course, but it's not that easy here in Qaqortoq. That could be a secret dream for the future, she says with a smile. Right now, it is lovely hobby that I enjoy. I have sold a few paintings and some of them have been sent to Denmark, concludes Pipaluk.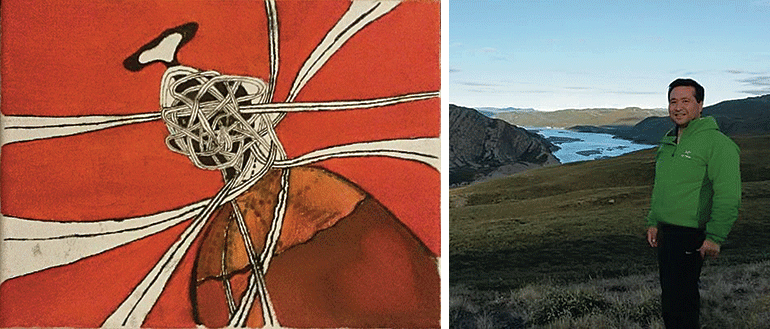 Laavak
Laavak Rosing was born in 1973 and he grew up in Maniitsoq. For almost ten years he has lived in Kangerlussuaq where he is the manager of Air Greenland's traffic office. On November 1st he is going to work with Agent Services at Air Greenland's headquarters so he will be moving to Nuuk.
He has lived in Norway and has attended folk high school/sports school. From there, he tried a little of everything from handyman, ski school and trail maker to receptionist.
– I have never held an art exhibition. What I do is a hobby, says Laavak.
– The desire to paint often comes after a walk in the fells. The ideas come by themselves after experiencing Greenland's nature.
– I use mostly acrylics at the moment, on canvass or plywood or whatever I can find. Both finger painting and brush.
– I have dreamed of being an artist. My only »art training« is from my first year at high school in Nuuk with Anne Birthe Hove (Greenlandic artist), who gave me inspiration and courage.
– I will probably never lose my interest in being an artist and painter. But I have never sold my paintings. I often give them away to my closest friends, says Laavak Rosing.
   Read the storie on page 6-9