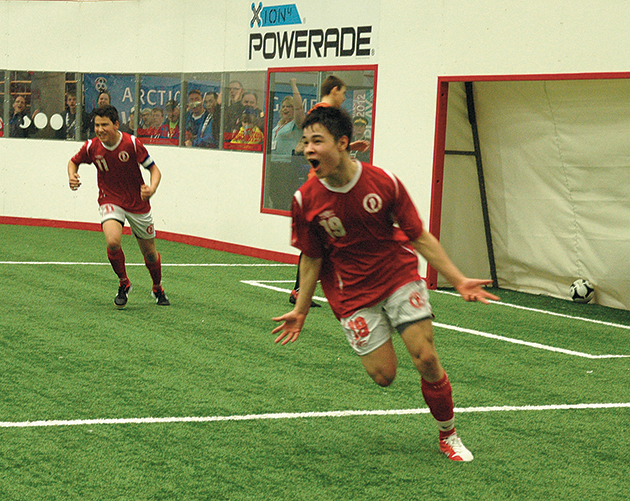 The talent is obvious – the future looks promising
Text: John Jakobsen, greenland today March 2015
The biggest sport in Greenland is soccer. Greenland has fostered many talents over the years, but the big breakthrough has been long in coming. A new great talent aims, within the next years, to really break through. It is the 18-year-old Ari Hermann, who grew up in Nanortalik. Right now he plays on grass fields in Viborg.
– I have always loved soccer. I played soccer in the living room with my dad, we used chairs as goals from I was very little. My mother or sister were not particularly happy about it, but we did it anyway, Ari Hermann says.
– Nanortalik is a small town in Southern Greenland, and soccer is not played by many in the town. Nor were there many boys who played soccer and I had a hard time finding friends who wanted to play soccer with me.
– I had my first big experience when I was around 6-7 years old I. My father, Arne Hermann, had to work some months in Vancouver in Canada, so we went. I was ecstatic when my father told me, that there were grass fields in Vancouver. I wanted to try to play on grass, an opportunity that wasn't possible in Greenland. It took a very long time to find a club. Eventually we managed to find a club just outside Vancouver, and it was absolutely great to play on grass.
– We moved to Nuuk when I was almost 9 years old. It was a little strange to move to a big city to begin with. I got used to it, and realized that there were many opportunities in Nuuk compared to in Nanortalik. I started playing in a club called GSS until I was around 13-14 years. I changed club to B-67, as it was a more serious club, and I really wanted to get better at playing soccer. I had to work really hard to achieve my goals in B-67.
– I got much better training and challenges, and it was just what I needed. I participated in GM(National Championship) at age 14 in 2011. The following year I got selected to Arctic Winter Games 2012 in Whitehorse, Canada. We made it to the finals, but lost to Yamal Russia. It turned out that I was the top scorer in the tournament. We won gold at Arctic Winter Games in 2014, with me as the top scorer again.
Boarding school in Silkeborg
Ari Hermann moved to Denmark to attend boarding school in Silkeborg during the summer of 2012. The reason he went to boarding school was, of course, because there would be time for more soccer in his life.
– It was absolutely fantastic to play and train every day. While I was at boarding school, I played for Silkeborg IF. I moved to Viborg when the year ended at the boarding school. I thought my chance to get playing time, and not least, a breakthrough would be greater in Viborg.
– It turned out that my ambitions were more than satisfied. I was happy to change clubs, and have not regretted once.
– It was actually my coach in B-67, Rene Olsen, who is also the coach for the National Team of Greenland, who recommended that I should play for Silkeborg IF. The club had good youth teams on many levels. The club's U17 was one of Denmark's best. When I reached the age 17 level, I started training at the club and was on the 2nd best team. I fought hard to get on the best team, but never managed to get close to it.
– I had to find another club to fulfill my ambitions. My dad helped me a lot because I was attending school, and studies should be combined with playing soccer at a high level.
– The choice became Viborg and it went really well. My skills developed constantly, and I have learned a lot in Viborg. I started on the 2nd best team. Got the chance to train with the best team at the U17 level, and I am now on that team.
Taking diet seriously
Soccer has always been Ari Hermann greatest passion. He knows that playing soccer isn't all there is to it. The lifestyle must be reorganized, and he has to think about his diet as well.
– I really began to think about it when I attended boarding school. We had a class on nutrition and it was easy for me to follow the suggested changes, as several of my friends lived very healthy.
– I took it very seriously. When you are as passionate about soccer as I am, and your dream is to become a professional footballer, then it all go up in a higher unity and that also includes diet.
– My big idol has always been Lionel Messi. He is my idol because I love the way he plays. I can thank my father Arne that soccer became my passion, because he is as crazy about soccer as I am.
– Soccer means everything to me, and I exercise every day. I trained 6-7 times a week at boarding school. I train as much in Viborg, but I do a bit more strength train now than I did before.
– My ambition is to get really good at playing soccer. I do not care where I play, as long as I can live out my dream I am happy, Ari says.
– I was selected to join the National Team of Greenland in the fall of 2014. It meant a lot to me to be selected and represent my country. I was very proud. Unfortunately I did not do much playing time as I was injured.
Scores many goals
The first year in Denmark was quite hard for Ari. He did not expect that it would be as hard as it really was. Getting used to the Danish conditions was hard.
– I had to get used to playing on grass, and then live so far from home. Big changes required great strength. Everything went much better after the first year, and life was again great. I began to develop my skills and improve on many levels.
– Fall season in Viborg was really good in the beginning. I did the things you had to do on the field, and I scored many goals, and was praised by my coaches. It brought me joy, pride, and I took it more easy towards the end of the season. Maybe too easy, because I did not score as many goals at the end of the season. I scored nine goals in 12 games.
Incredibly exciting player
Ari Hermann may well be a future Greenlandic A team player. It is rare that a Greenlandic players makes it to the level that the 18-year-old striker has achieved on FK Viborg's U19 team.
– He is a very exciting player when you look at it as a player from Greenland. He is clearly one of the most talented from Greenland. And the fact that he is doing well in Viborg is only positive, Jens Tang Olesen says to Viborg Folkeblad after a game last fall.
– Outdoor soccer is by far the biggest sport in Greenland, but they play on bad gravel or soil fields during summer and indoors during winter. And it is somewhat a shame, because it goes without saying that they can not get the optimal development as soccer players , like a typical Danish player can, says the coach who has been involved in the soccer world of Greenland for 15 years says.
– Things have evolved in Greenland, but around the world, things have evolved even more. I have previously been a coach for Viborg FF, and at that time there were on two soil courts, but today they have two artificial grass fields. It gives players in Viborg amazing opportunities that you don't have in Greenland, Jens Olesen Tang says to the newspaper.
Good example for others
That is exactly why he is glad that a player like Ari Hermann made the leap to move to Denmark. This gives the young player the opportunity to evolve at the same level as his peers in Denmark.
– Ari is very privileged that he has his father relatively close by. It is a challenge for Greenlandic players that they face a completely different culture in Denmark. But Ari has his father close by for social support and support in challenging periods. And this enhances his opportunities here in Viborg.
There is another Greenlandic player in Viborg, he is on the B team in Viborg, and Jens Tang Olesen does not hesitate to recommend other Greenlandic players to join Viborg. To find the courage to pursue their soccer dream in Denmark.
– You can say that he is an example for others. Players who want to get connected to clubs in Denmark contact me once in a while. And now we know Viborg and can only recommend it. I know Predrag Bojanic(talent manager, Ed.) and know how good he is to take care of young people, so I would definitely recommend the place and I have done that, Jens Tang Olesen says, who sees it as a plus that Ari Hermann's father, Arne Hermann remain in the area because he speaks Greenlandic, and therefore will be a good support for young Greenlanders with soccer ambitions.
Island Games this summer
Greenland'a National A Team is participating in the Island Games in Jersey in June. And that was the reason that Jens Tang Olesen was in Viborg to observe the great Greenlandic talent, as a part of the selection round for the team.
– I can only say that, if he keeps his standard and development and continues to play on grass, he will have really good opportunities, even though it isn't me who is in charge of selecting players. I can not promise him anything, but he will have a good chance of being on the Senior National Team. He has been given the same conditions as the Danish players and practice 7-8 times a week, Jens Tang Olesen says.
< Read the story in the magazine and see all the pictures. Page 66 – 67