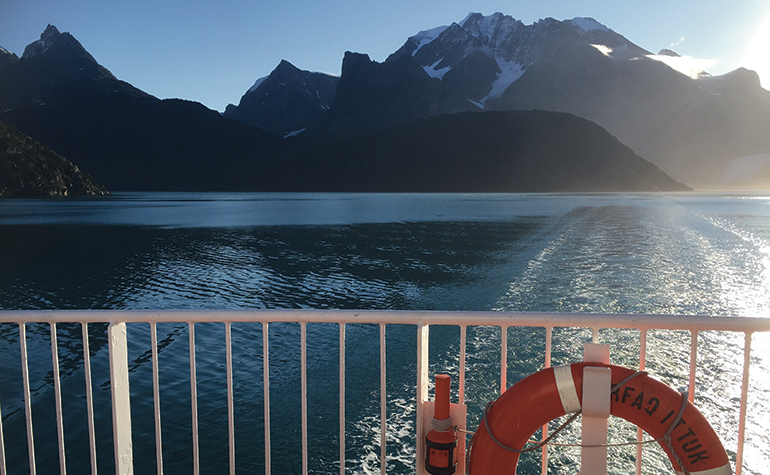 Building up skills in the Arctic through the sharing of know-how is the concept behind a network of companies that have strengthened their collaboration through network and secretariat manager Ellen Arnskjold.
Text: greenland today, November 2015
Arctic Business Network (ABN) consists of 70 Greenlandic, Danish and Canadian companies and organisations with expertise in the Arctic and the North Atlantic. The primary goal for the network is to share know-how, to grow new business connections, to help business development and to develop Arctic skills. ABN is run by a board consisting of leaders from member companies from Greenland and Denmark. The everyday work is undertaken by a secretariat and ABN strives to provide the members with added value through news, inspiration and events like conferences, seminars and network meetings.
Climate changes are making the Arctic more accessible and many people have become aware of the infinite possibilities presented by the Arctic. ABN has therefore started a strategic process to ensure that the network adjusts to developments.
Background
The network has existed for eight years and it came about through a North Jutland initiative for companies and organisations with a focus on Greenland. Since 2013 the network has been an independent and self-financing group of companies and organisations. The network has established an office in the Port of Greenland with one of the member companies. There are companies from almost every branch and many member companies have achieved Arctic skills through their work in Greenland.
Arctic Business Network also works with other networks in the Arctic, e.g. Arctic Cluster of Raw Materials, North Atlantic House's Business Club and Arctic Consensus. Furthermore, there are universities, business councils and centres, municipalities and other stakeholder organisations in Greenland and Denmark.

Arctic skills
All companies, whether they do all or part of their business in the Arctic know the challenges presented by the climate, where e.g. the only available transport to some towns and villages is by ship and then only for a few months of the year. It places special demands on acquisition, logistics and planning, as well as on recruiting and keeping employees, distance management, CSR policies, multi-lingual workplaces and work culture etc.
Arctic Business Network arranges study tours to Greenland and conferences about everything from Arctic construction to developments in the Arctic food industry and especially Arctic expertise.
– This is how the ABN actively endeavours to acquire and share knowledge all over the Arctic. Also with new companies and entrepreneurs, explains Ellen Arnskjold, who is the manager for the network and secretariat.
– The network also creates opportunities for establishing and maintaining business connections.

Ellen Arnskjold.                                                                                     Inaluk Brandt.
Secretariat
– ABN's board has chosen to strengthen the network through the continuous efforts of a secretariat with me as network manager, explains Ellen Arnskjold, who has six years of experience in Greenland with business development and internationalization in Greenland's biggest employers' association.
Now she manages the daily operation and contact to the ABN members as a consultant. She is also responsible for the network's events and functions.
As self-employed and owner of the Business4U consultancy firm, her work is centred around taking care of business interests in and outside Greenland. She provides administrative services for the Greenland Oil Industry Association, GOIA, together with her Greenlandic partner in Nuuk, Inaluk Brandt who is from the consultancy firm foCus.
Ellen Arnskjold also works with Greenland's Representation running courses for new employees in Greenland, where she provides information about businesses in Greenland and about joining the Greenlandic work culture.
This summer, she also facilitated »Vision 2025« in the Danish parliament, where Member of Parliament for Greenland, Aaja Chemnitz Larsen, invited Greenlandic students in Denmark to a seminar about new corporate initiatives. And recently she was also facilitator for the Greenland Research Council's Innovation Seminar in Nuuk, where a series of pivotal Greenlandic players and international experts in innovation met to share know-how on the subject: Why innovation is Important in the Arctic.

Floating trade show
– I never imagined that I would be the driving force behind a series of business meetings on the west coast of Greenland, that took the form of a floating trade show, says Ellen Arnskjold.
In September 2015 the ferry »Sarfaq Ittuk« was transformed into a floating business and education trade show called »Seashow 2015«.
Local school children from five of Greenland's larger towns were invited on board so they could find out about higher secondary boarding schools in Denmark, internships, apprenticeships, trainee positions and in-work training. At ABN's stand it was possible to test your commercial knowledge and this was very popular with the young people.
Ellen Arnskjold has also hosted five corporate meetings on behalf of the Arctic Business Network, where local Greenlandic companies were given talks on new investment initiatives in Greenland's business community.
CSR Greenland presented a project where the business community and public schools work closely together to encourage the young people to take an education and to think about careers as an investment in human resources.
Several companies were also on the boat, among them the Growth Fund where Greenlandic businesses heard about opportunities for seeking funding for product development, export, generation change and greener, more energyefficient solutions.
Network management
– Globalization and international trade are key words in the Arctic. And development in Greenland and in the neighbouring Arctic countries needs constant attention, explains Ellen Arnskjold.
– I provide information about trends to ABN's members in the form of news, network meetings, seminars and new business opportunities. I also travel to Greenland several times a year and take part in meetings, seminars and conferences in Europe, Canada, Iceland and the Faroe Islands.
– Arctic Business Network is a good network for Greenlandic, Danish and international companies that want to work in the Arctic or for Arctic companies with interests outside their own countries and can open up for export opportunities. A series of new Greenlandic companies and the entrepreneurs that stand behind them play a special role here because through the network they can gain access to international contacts and experience.
– With a broad, professional network I hope to help to strengthen interest for Greenlandic and Arctic business interests e.g. through ABN, concludes Ellen Arnskjold.
   Read the article on page 41-43