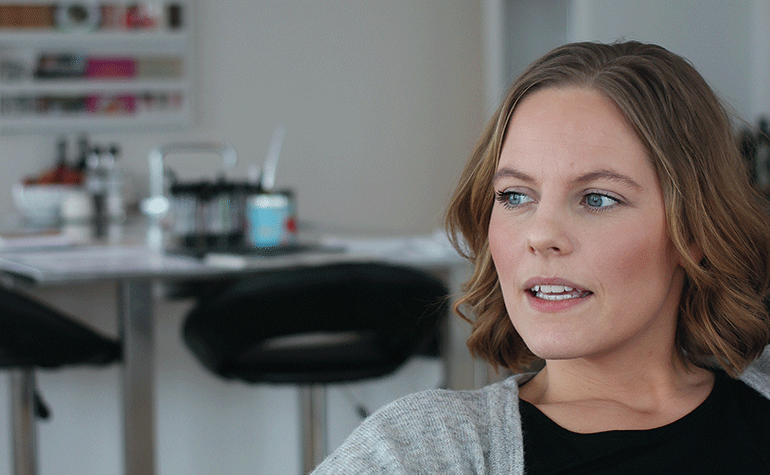 Anne Nivíka Grødem was born in 1983 in Ilulissat, the town near the Northern Hemisphere's most productive glacier, which has been declared a Natural Heritage site by UNESCO.
Text & Photo: Mads Nordlund, greenland today March 2015
– My father had just graduated from the teachers college, and my mother was pregnant with me when they moved to Ilulissat, Anne Nivíka says.
– My father soon got tired of all the »wise« Danish teachers, who felt they had to revolutionize the Greenlandic school system, without regarding the Greenlandic culture and mentality.
– So after four years as a teacher, he decided to become a fisherman on a prawn trawler. After four years at sea, he became the manager at the sportshall in Ilulissat until 1993 when we moved to Denmark. My parents enjoyed living in Greenland, but they did not trust the school system, which at the time was undergoing a significant transformation.
– I remember my childhood in Ilulissat as utterly fantastic! It was a paradise where you were allowed to be a child. I was a little tomboy who was dragged along for hunting and fishing trips on dog sleds, and skiing full speed behind my father's snowmobile on the ice.
– I decided then, that when I would one day would become a parent myself – that my children should be given the same opportunity to be a child as I was.
The youth in Denmark
– Moving to Denmark was a huge change for me. Anne Nivíka, whose youth was full of singing, music and lots of sports like swimming, handball and badminton, says reflectively: The world I knew and all the friends, who of course also were like family to me, were suddenly 4.000 km away.
– I knew I was going back to Greenland one day, it was just a matter of when. I finished my elementary school, high school and later my financial education in Denmark.
– I recall my youth in Denmark as a period where I was more like an adult than a child.
– First, the development I went through as a teenager but especially my parents' divorce when I was 18 and the dramatic change by moving to Denmark, all had a great impact on me and made me become an adult fast. When I look back, it was an abrupt end to my childhood!
Back to Greenland
– I visited Ilulissat during Easter in 2005, where I met my husband Ove Grødem. I was almost done with my bank training and graduated that following summer. I moved to Nuuk to work as a private and business advisor in Sparbank Vest right after graduating. Two years later our son, Mads Inuuteq, was born and three years after our daughter, Malou Naduk.
– I enjoy spending time with family and friends, and cooking in my spare time. Cooking is a big part of my life. It's something I've been lucky enough to learn from my mother. She has worked as a cook for many years and has always been an excellent cook. I like to do my best with it, and that is definitely something I learned from her.
– We rarely buy beef or pork. We eat what we have hunted and fished ourselves. I really like whole foods. I am not a fanatic, but it doesn't make sense for me to use less healthy ingredients, not when we have a freezer full of Greenlandic meat and fish.
– We don't travel abroad during the summer. Instead, we use our boat to go fishing or hunting. Our children usually come along, and Mads has already helped to shoot two reindeer. Malou loves to gather berries, and we really enjoy having lots of berries in our freezer. It is a wonderful feeling that the entire family takes an active part of filling the freezer for the winter.

A turning point
– I was in a violent car accident a week after the birth of our daughter that put my entire life in perspective. Luckily, I didn't get any bruises from the accident, but it left deep scars on me psychologically. The following period was a hard time for the entire family. My father in law was seriously ill with cancer and passed away way too early. Family means everything to me, and it was something that affected us all enormously. Fortunately, we still have my mother in-law, who lives close to us, and she means a lot to us. Her home is the family gathering place, and there is always coffee in the pot, and the waffle iron is always on.
– I got a new job as a banking advisor after my maternity leave with Malou. Unfortunately I got sick from the poor indoor environment which was in the building at the time. It really wore me down. That was the drop that made the cup run over. I 
was struck with fear and got repetitive anxiety attacks. I was in a depression-like state, as an unemotional robot who just completed my daily activities without really being present. It was a really tough period, especially with small children – and it affected our little family. Luckily my husband offered huge support and helped me to move on.- I realized that I had to make major changes and do something else!
Private clinic
– The difficult situation inspired me to pursue a dream of independence. I studied to be a beautician in 2010 and opened Nivíka Cosmetic Studio in Nuuk. It was an old childhood fantasy, so it was like a dream come true. The studio was a rapid success, and I was very pleasantly surprised by the great interest for it.
– I had three really good years in the clinic. This period was a great opportunity for me to use my skills. I learned that I am an entrepreneur with a big E, and that it is easy for me to find ideas, organize them and turn them into reality.
– But day to day operations of a clinic was not what I really wanted to do, so I decided to accept an offer to become a project coordinator.
– I worked as a project coordinator for one year, along with running the clinic. The job was perfect for me as I love to develop ideas and watch them become a reality. I closed the clinic and focused fully on the job as a project coordinator.
– It was a big step for me… Just as scary, as it had been going from a solid job in banking to opening a clinic, and just as challenging as it was to go back to being an employee.
– Unfortunately, it didn't take long before I felt handcuffed, and my creativity and zest disappeared. It didn't feel right to continue, and therefore I resigned.
The artist »By Nivíka«
– In the beginning of 2014 I was without a job and without any plan, but I could feel that I was regaining energy. One day I saw a white curtain with black lines. It inspired me to draw something similar, and the day after I bought felt-tip pens and paper.
– I had never challenged my artistic abilities in that way and never imagined that I would make a living from it. My mother is very creative and has exhibited her work in Ilulissat, so I certainly didn't get it from strangers.
– The drawings developed and the interest grew. Things have moved fast, and now I have distribution agreements with several stores in Greenland and a catalog of cards, illustrations, and posters.
– As an artist, I am very new. I am therefore still in the process of developing my style. In the beginning it was black simple lines, with a Greenlandic flair. Today my art is more broad and colourful.
– My art is not uniquely Greenlandic or Danish, but probably a mixture of both cultures, like myself. I get my inspirations from everywhere, but I like to use the Greenlandic culture in a new way, for example, setting up children's songs with a new graphic sense, or drawing designs that may not inspire an immediate Greenlandic association but rather, depend on the viewers preferences.
Drawing outside the lines
– I have always been very structured, orderly, and a bit of a perfectionist, and that was probably why I originally became a banker. When I work with my drawings, I give space to my inner »Pippi«, and allow myself to »draw outside the lines«. It is a relief for a structured human like me, and I am grateful that I have been able to use that side of myself. It has always been there, but I have not given it the space before now. It probably seems rather surreal that I have gone from drawing nothing to suddenly feeling that I can draw everything.
– Many times I have a clear picture of how my end result will look. Of course it takes on a life of its own and develops into something slightly different along the way, but I see that as a gift.
– I draw because I love doing it and because I can not help doing it. I will not limit myself to only draw Greenlandic motives. It is important for me that I develop myself without having to be stuck in one specific style. A woman I had never met before recently told me that she loves my drawings and that she thought it was great to see drawings where she could recognize the Greenlandic expression, without having the feeling of having it spoon fed. It's the biggest compliment I have ever received. It expresses exactly what I want to express through my drawings.
Entrepreneur
I need to utilize all my skills as an independent and entrepreneur: Structure, creativity, perfectionism, social skills, and so on. It is satisfying for me when I need to use my versatility in what I do.- Being independent is a lifestyle. It is difficult to distinguish between business and leisure. I enjoy that I can work in the evening, and at the same time that I don't have to be out of the door every morning at 8am.
– I feel lucky because I have this opportunity, but it requires hard work. It does not come by itself. My passion is my driving force, and being self-employed requires great self-discipline, it's essential.
– As »By Nivíka« I primarily create cards, illustrations and posters. I also work on book projects. Additionally, I work for the Greenlandic women's magazine »Arnanut« as a writer and editor on beauty and food.
– I have recently created the page »Greenlandic Food Lover« on Facebook and Instagram with inspiration for healthy food based on the products we have available in Greenland. I am very surprised by the great reception it has received. It appears that the need for inspiration to every day food is large.
– I also work as a consultant, helping other entrepreneurs, shops etc.
The future
– I do not know where I'll be artistically in 10 years, and actually I don't want to know. Earlier in life I had too many plans about my future. I feel like I have let go of that need. I have found great joy in letting the creative flow happen, and I do not have a need to decide now where it should end.
– My dream is to be able to continue to live from my passion, to cultivate and develop my art in new directions, make books, advise other entrepreneurs, give lectures, and teach. In the end, I want to contribute to society by inspiring other entrepreneurs to take the steps necessary to create their own jobs and their own future.