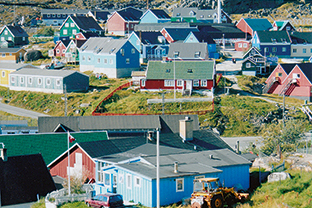 Story from greenland today, July, 2011
Text and photo: Lee Arnold
My partner Neal and I was last year in the town of Qaqortoq on Southgreenland's west coast, on a cruise from London to New York.
The day before we arrive, the captain cruised the fjords of Greenland, passing icebergs as large as buildings and gently sailing through the calm waters.
A dream
I would never have dreamed that someday I'd be in Qaqortoq. I had grown up in a very conservative Methodist church in rural Wisconsin.
As a bullied, gay teenager, I was conflicted in trying to find solace in a church, which also rejected me. But there is something comforting anytime I hear the old hymns I had grown up on.
Great hospitality
Since our ship almost had more passengers than the entire village of Qaqortoq, the town seemed eager for our arrival. The villagers had scheduled free tours, demonstrations and concerts.
We saw the old Lutheran church, an Inuit drumming demonstration at the community center, and watched kayakers flip themselves upright in the harbor.
Serenity
We then headed to the new church, where a choir was singing traditional songs. When I heard »Abide with Me«, that's when it hit me. Perhaps it was so many days at sea. Maybe it was the incredibly beautiful view of the harbor in the sanctuary. Or the kindness of the townsfolk.
Hopefully it was something deeper: an acknowledgment of the bruising, which hard religion can do to a young soul, and the appeal of a loving God to look beyond the harshness of others. Now that's Amazing Grace.