Suulut Geisler is a bundle of muscles, he is active in several sports and he has met many challenges in his life.
Text: John Jakobsen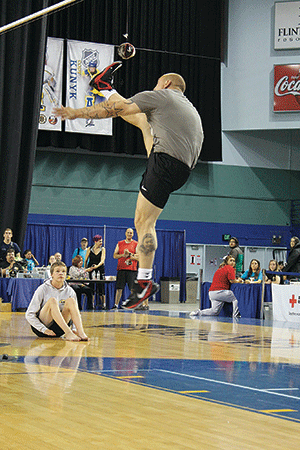 Life has not always been easy for Suulut Geisler, one of Greenland's best sportsmen. This physically big man faced many challenges before his life began to function optimally. He won a gold medal at the Arctic Winter Games (AWG) and has since continued to build up his muscles. We draw a portrait of the muscle man who moved to Denmark to train as a ship engineer.
– I am 28 years old, was born in Ilulissat and have lived there for most of my life. At the moment, I am studying at the engineering school in Aarhus. I have a one year old son and I live with my girlfriend, Gerdaaraq Ingemann, says Suulut Geisler.
– Ilulissat is where I feel most at home. And although I have moved around and have lived in other places I always need to come home to Ilulissat for a while when I have been away for too long.
– As a boy, I played football. I really loved it. I have taken part in a couple of Greenland Championships (GM). Believe it or not, I have also played a little badminton. I have tried handball too, but I never took part in tournaments, because I only went to practice when it suited me. I did take part in GMs later when I took the sport more seriously. I remember my time playing football, badminton and handball best from when I was 7-8 years old until I was 14-16 years old.
– I started with a little bodybuilding when I was 16. At first it was 3-4 times a week. Mostly for fun and to try it out, but I quickly became interested in it and after a short while I started training seriously.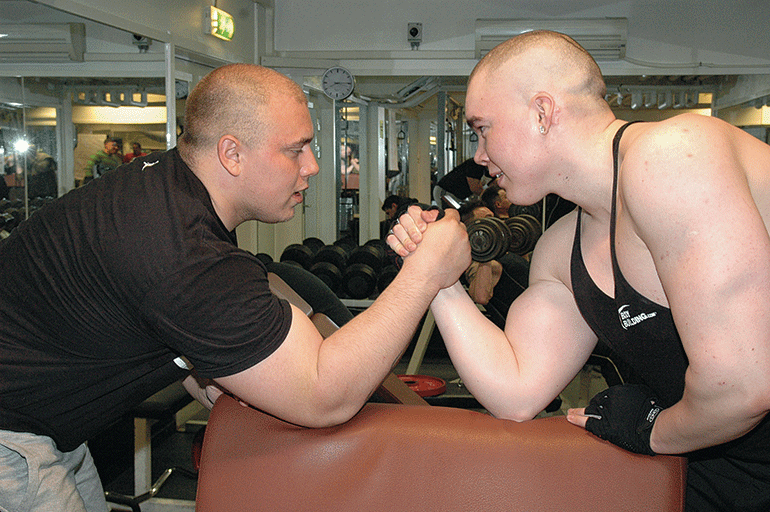 Won gold in Arm-Pull
In 2004, Suulut Geisler was selected to take part in Arctic Winter Games (AWG). He competed in Arm-Pull. He went right to the top and won gold.
– I was very pleased to be selected and I started to take an interest in Inuit/Arctic sport at the youth club in Ilulissat. They always had the necessary equipment for anyone who wanted to try. They arranged small tournaments in which anyone could take part. I won those several times. I got on the AWG team because one of my friends told the national coach about me.
– Just before AWG in 2004 I started bodybuilding seriously. I kept on training. I trained hard twice a day. I ran and I trained with weights. I remember when I achieved my personal record and I bench pressed 165 kg when I was just 17 years old. I have never seen or heard of others who have done that at this age. At the time, I weighed around 95-100 kg.
– I have never competed as a bodybuilder – just in »Nuuk's Strongest Man«, which I won in my weight class as well as in overall. I was pleased with this. Al-though I haven't competed in other »muscle« competitions, my strength has always given me an advantage in other sports like handball, boxing and Inuit Games.
– I have competed in Inuit/Dene Games in Alaska and at AWG and it is a sport I really like. It is an individual sport except for pole push. If you want to be good at Inuit/Dene Games, you have to train, physically and mentally. If you train seriously, you get fast, explosive and strong.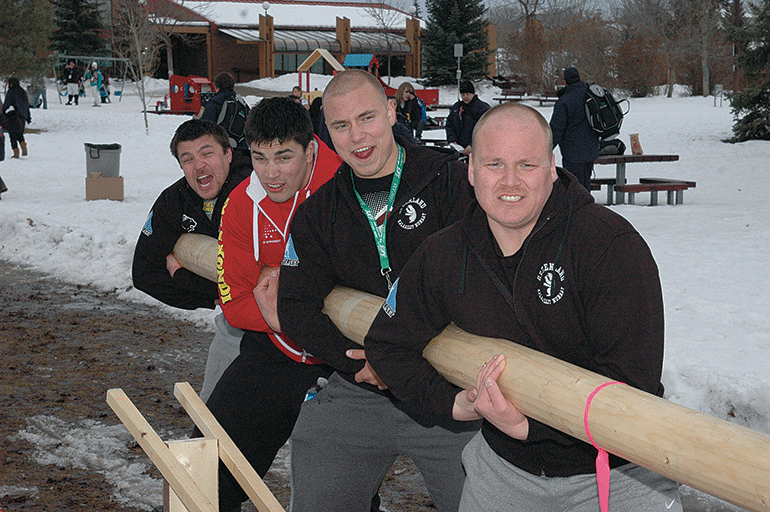 Doped involuntarily
Several years ago, Suulut Geisler, was absent from Inuit/Dene Games and other sports for a while.
– I have been away from active sports because I have made many mistakes with my life. I was taken for doping when I tested positive and got two years quarantine. I bought some pills abroad in good faith. The product I bought was a new product that was supposedly approved. It turned out it was not approved and the product was later removed from the shelves.
– I complained, of course, but without any luck. Now I only use Danish protein powder. There is always a risk when you buy something from abroad on the internet. You have to be careful.
– Before I had my son Liam, life was more fun and games. I didn't care about school. It was my mother who insisted I went to school. I couldn't be bothered. I was lazy and undisciplined and couldn't get up in the morning. But then I had Liam and I felt it was now or never. I started to work hard so he would have a good role model to look up to.
– I went to technical college and passed with the next best average marks and I was very proud. I could not have done it without my son.
– He really was the light of my life. I have three tattoos that are »about« him: His portrait, his name and date of birth and three stars on my left arm. We called him a star child even before he was born. So the three stars are my son's »sign«.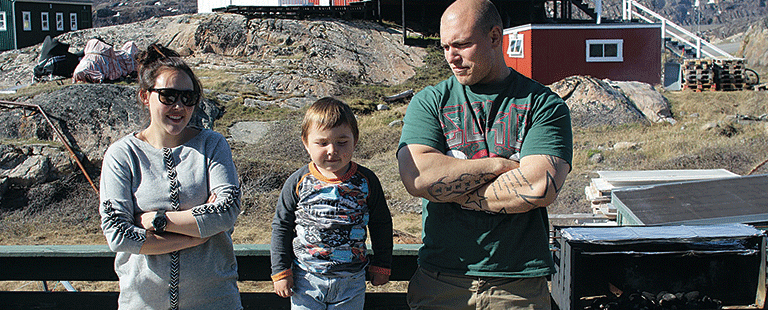 Losing Liam
2014 was to have been a good year for Suluut's little family. Gerdaaraq and Suulut had their second son, Kian. Suulut finished at technical school and he also completed »some community service« at the beginning of the year.
– We were moving to Denmark where I was going to study construction and infrastructure at the engineering department at Denmark's Technical University (DTU). I left for Denmark a little before my family because I had to start school and we didn't have anywhere to live. My family would come when everything was arranged.
– Shortly before they were to leave, Liam got a high temperature and he cramped for a long time. We lost him. The doctors tried unsuccessfully to save him. He was evacuated from Sisimiut to Nuuk and from there to Rigshospitalet in Denmark.
– It was a terrible blow for us and it is still hard for the family. We smile during the day, but we have many tough, sleepless nights. The hardest for me was not being at Liam's side when it happened. He was in every way stronger when he was at my side.
– At the time, it was impossible to be with him and I feel bad about that and I always will. My whole body shook violently when it happened and I wanted to get over to my son as soon as possible to help him in some way.
– I knew it was supposed to be me who died first, when I got old. My thoughts were to help my children as long as my heart was beating. It was very hard lying by his side, listening to his heartbeat grow weaker and weaker, until it stopped completely. It was something I never thought could happen. Life is hard and everything can change in a second. So 2014 was the worst year ever.
– It took a really long time to deal with. To figure out the future – and how to move on. I am studying again. Liam was truly my lovely boy. He will never be forgotten. He will always be in my heart.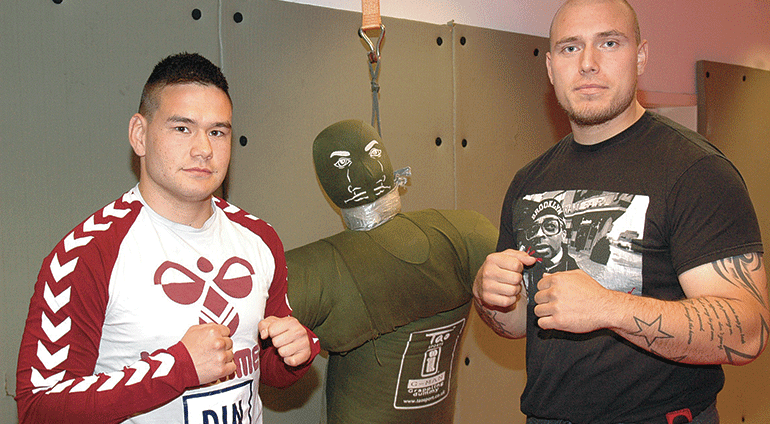 Big boxing talent
Suulut is busy with his studies in Denmark. He still plays sports. Now, it is mostly weight training and boxing that interests him most.
– I have been boxing a little at »The Colosseum«, where Greenlandic Thai boxer Frank Madsen also trains. There are many good fighters and the plan is for me to train more and to have some fights. It has been a year now since we lost our son so I am taking things easy. At the moment, my family and my studies have high priority.
– Suulut Geisler is a big boxing talent. He hits hard and can take a punch himself. I want to help him to be a big boxer in my club and I really believe he could box professionally, which means he can earn money from his sport, says Frank Madsen.
– I was introduced to boxing in Sisimiut and I had my first fight in Nuuk in 2013, where I won in the second round on a technical knockout. Later, I was supposed to have fights in Nuuk, Iceland and Denmark but there were no contending boxers in my weight class, says Suulut.
– It was frustrating after training so much and feeling ready to fight. What I like about boxing is it is a man to man fight. It is »eat or be eaten«.
– When I was in Copenhagen I trained with Team Lentz, where Greenlander Brian Lentz is coach. He really gave my boxing style a boost and taught me a lot, ends Suulut Geisler.
   Read the article on page 64-66