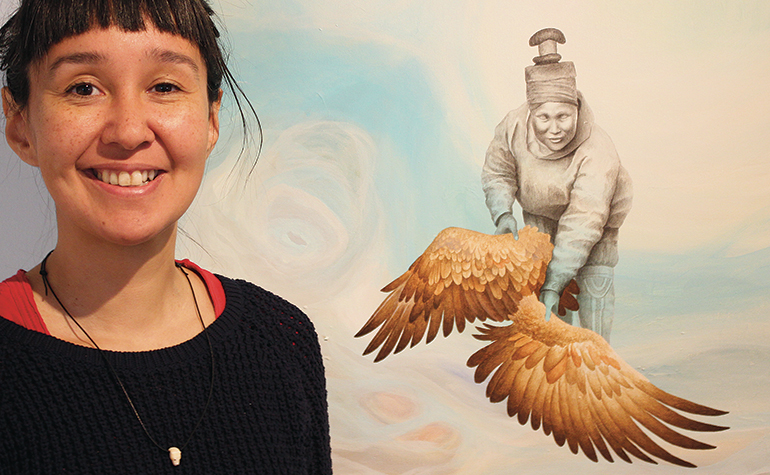 Animals and people meet in Lisa Kreutzman's imaginative universe, which often finds inspiration in nature and her everyday life
Text & photo: Mads Nordlund, greenland today November 2016
Lisa Kreutzmann, 34 years of age, is from the little village of Kangaatsiaq, Disko Bay, with 500 inhabitants and this is where she lives today. Sometimes, she is away for a longer period, like this 
year where she spent the summer working at Ilulissat Museum of Art and, like her next job, where she is to paint some of her fantastic animals on the wall of The College of Social Education.
She has also spent longer periods in both Nuuk and Denmark, where she attended the art and animation school. Throughout her career she has exhibited in several places in Greenland and also in Alaska, Denmark and Sweden.
This summer, she stayed at Ilulissat Museum of Art's little artist retreat while she tended to the museum and the shop and exhibited her own work on the first floor. Here, she meets greenland today with the big, warm smile with which she greets all the visitors. Her happy nature is contagious and her bubbling, positive energy is reflected, among other things, in the way she walks humming and quietly singing through the rooms during the interview, occasionally working on the next piece when there are no visitors in the museum. At the moment, she is working on a series of water colours on which she has just sprinkled salt. This makes peculiar patterns and shapes like snow crystals which form the background to which she finds a motif.
– I have always drawn, ever since I was little, says Lisa.
– I started painting at art school in Nuuk in 1999, where I learned the techniques. Since then, I haven't stopped painting, she smiles.
Most of her family live in Kangaatsiaq, where she spends a great deal of her time painting and drawing. In her spare time, she finds inspiration in nature and she loves walking and kayaking.
– I like being alone, although it can be a little lonely, working on your own, she explains.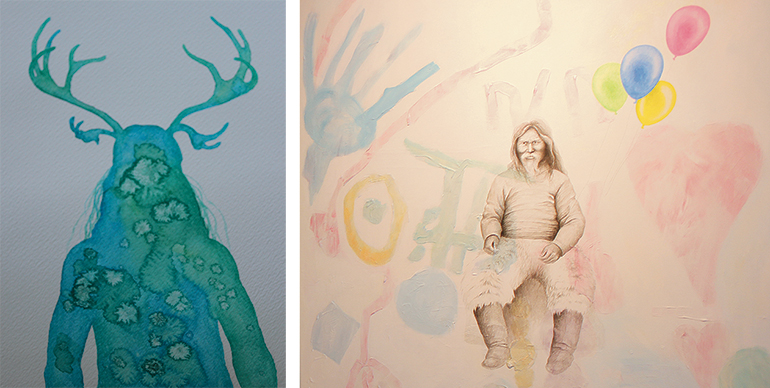 The polar bear
Nine years ago, Lisa met a hungry polar bear in Kangaatsiaq. Since then, she has loved painting and drawing Greenland's wild animals.
– I stood just 30 metres from the polar bear and I could smell the beautiful animal as well as see it. I also tried to take a picture, but I shook too much. Of course I was afraid, but also happy, she says about the intense experience.
She paints pictures of people too, but only from her imagination. She does not want to paint portraits of real people, she explains.
Some of the pieces in the present exhibition are painted over some old children's paintings that had been thrown out. She also likes working with driftwood, which she finds on the beach at Kangaatsiaq.
Otherwise, she uses both water colours and acrylics and all kinds of drawing materials.
The future
Lisa Kreutzmann works a lot and makes her living as an artist. She has carried out commissions in Greenland.
She has her own little house in Kangaatsiaq, where she also has her beloved kayak.
– I will always come back home when I have time, she says.
She is on Facebook and e-mail, but only checks them occasionally.
– Probably not often enough, she says and smiles again.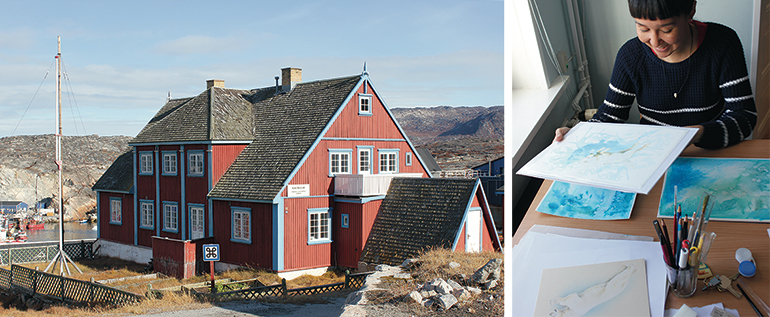 This rough, uncut, creative diamond from Greenland would go far in the USA or Europe if she had an agent's agreement with a known gallery. But money is not that important, she explains, as long as she can pay the bills for the little house in Kangatsiaaq, and have time for her family, for nature and for kayaking.
Lisa Kreutzmann's talent and productivity are steadily establishing her as one of Greenland's greatest contemporary artists. She is not herself aware of this and the many years of success have not marked this friendly and modest artist.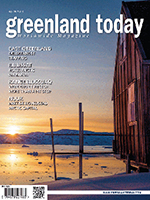 See the article on page 8-9