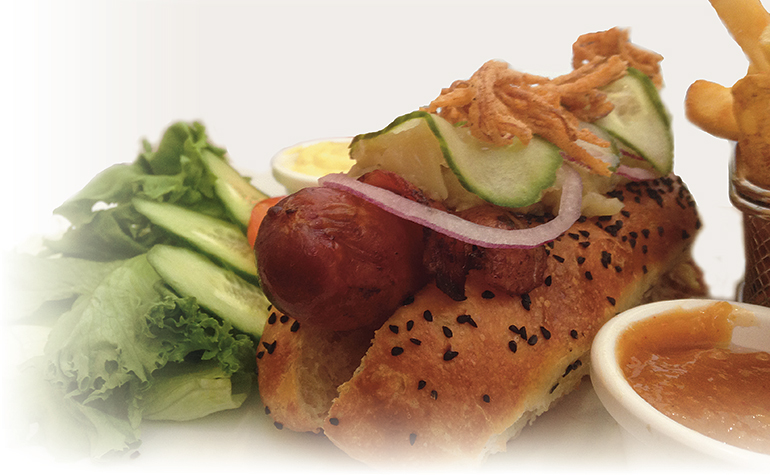 Most people in other parts of the world know what an ordinary »Hot Dog« is. Now cook Rune Collin from Greenland's Culture Centre, Katuaq, has introduced a »Hot Sled Dog« on the menu at Cafétuaq.
Text: greenland today July 2016
It is served on bread, with both pickled cucumber and crispy fried onions together with hand-cut fries, all home made. The sausage is made of musk-ox meat and it makes a complete meal – and it tastes really, really good.
Hot sled dog
Recipe for four people by Rune Collin, Chef, Cafétuaq
Bread
250g flour
160g milk
25g sugar
yeast
salt
40g butter
black sesame seeds
Knead flour, milk, sugar, yeast and salt together. Add the butter last. Leave the dough in a cool place for 12 hours. Divide the dough into pieces (120g each), form into hotdog buns and leave to prove until double in size. Brush with a little milk and sprinkle with black sesame seeds. Bake at 160 degrees for 20 minutes.
Sausage
2.5 kg musk-ox meat
(makes about 30, 120g sausages)
2 eggs
250ml milk
160g flour
10g white pepper
5g garlic powder
3g dextrose
2g cardamom
10g smoked paprika
4g nutmeg
2g ginger
60g salt
Cut all the meat into pieces that fit your meat grinder. Put the meat through the grinder three times. Put the ground meat into a mixer with the milk, flour, eggs and spices. The finished product should look more like glue than meat. Add salt.
Stuff the meat into small pig casings and twist after each suitably-sized sausage, approx. 120g.
Cook them in 80 degree water for ½ hour. The water must not boil, or the sausages will split.
Cool in ice water and put what you do not need into the freezer for the next grill evening.
Pickled cucumber
1 cucumber cut into thin slices
100ml vinegar
50ml water
3 tbsp sugar
Salt and pepper
Mix vinegar, water and sugar together, season with salt and pepper, add the slices of cucumber and leave for at least ½ hour. (Keeps for up to one week in a refrigerator.)
Crispy fried onions
Cut one red onion into very thin slices
100ml milk
100ml flour
2 tsp paprika
About 500ml oil for deep frying
Place the onion slices in the milk and leave for at least ½ hour. Strain the milk off and turn the onion rings in a mixture of flour and paprika. Deep fry them, then place on absorbent paper and sprinkle with fine salt.
Tip: do not fry too many at a time.
Bringing it together
In addition, you can use soft fried onions, raw red onions and a good mango chutney. Put it all together like a Hot Sled Dog and serve.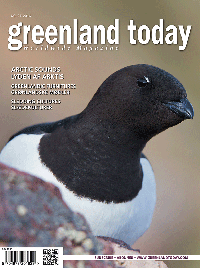 See the article on page 64