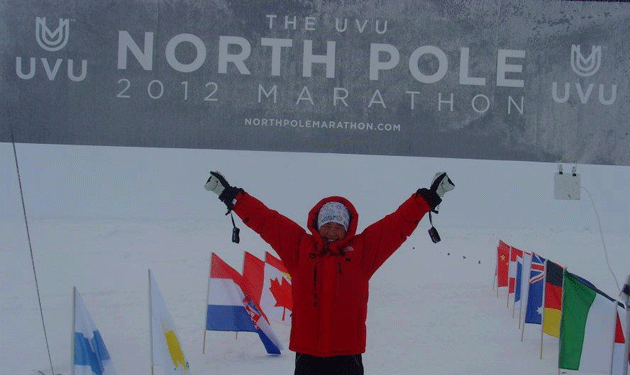 Lars Samo Tobiassen become an impressive number 10 at the North Pole Marathon
By greenland today
09 APR 2012
Only 14 year old Lars
Samo Tobiassen,  became a very impressive number 10, among the 40 participants from approx. 16 nations that participated in this year's marathon at the North Pole.
He was also the youngest runner ever to have completed a marathon at the North Pole.
He lives with five other boys in the boys home »Matu« in Nuuk, which has been his home for the last 2.5 years.
– We train almost every day, says Lars Samo to greenland today. Either we run, or do cross country skiing or other sports.
It took only Lars Samo 6 hours and 20 minutes to complete, in spite of a freezing cold average temperature of approx. minus 26-degrees celsius.
– The worst part was when I get tired, it was hard at last, but I got good support from the coaches, says Lars Samo with a smile.
– We ran at night, as the light was there around the clock. We came out on the ice from Svalbard approx. in the afternoon, and the race started at 10 o'clock in the evening.
– It was the same lane of approx. four kilometers that we ran 10 times.
With him in the race Lars Samo had two of the daily staff from the project Matu, Thorlak Skifte  Nielsen and Akannguaq Lennert, who also both completed as support staff as number 11 and 16, a fantastic effort from Greenland.
Both coaches hope that the experience has brought Lars Samo positive forward, and hope to seek future funds sufficient enough to make similar trips with the boys.
Besides having applied various funds for support for this trip, all three Greenlandic participants had all their clothing, jackets, pants, shoes, gloves, etc. sponsored by the Sports Store 
ITTU.NET
The race is organized by Richard Donnavan, and took place April 6th, 2012 at. 21 GMT.
From left to right,
Akannguaq Lennert, Lars Samo Tobiassen and
Thorlak Skifte Nielsen visiting greenland today
– worldwide magazine.