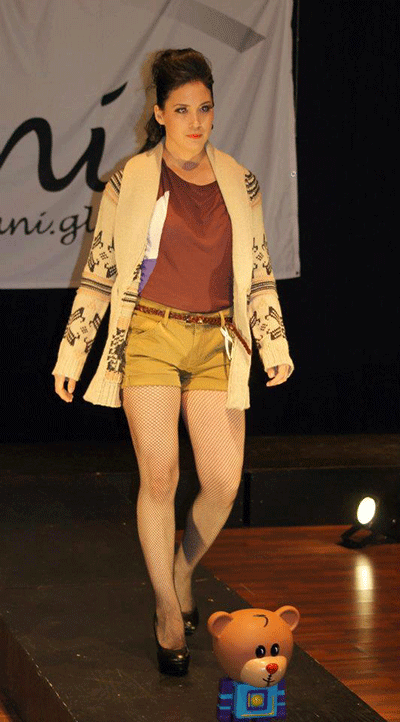 Ane Moeller
Ane is 21 years old and from Sisimiut. She works as as an office assistant in »Sannartornermik Ilinniarfik«, the Construction School in Sisimiut.
In her spare time she enjoys doing sports, and is currently training for the Greenlandic Championship in Snowboarding and Arctic Circle Race. Quality time with her family and friends is also a high priority for Ane.
I follow Greenland Fashion through Facebook, and often see interesting posts that catches my eye.
I enjoy the fact that Greenland Fashion not only focuses on fashion in Greenland, but also international trends. To improve further I think, that drawings with prices and more pictures of trendsetters in Greenland, would draw a greater audience.
What is fashion for you?
Fashion style says a lot about a person, and there is many different styles to choose from.  I do not necessarily buy the latest trend, but I put a lot of effort into how I combine my clothes. That is how you make your style unique.
Do you go very much up in your clothes, shoes, handbags, jewelry, watches, glasses, etc. ..?
Shoes tell a lot about a person's personality. I like sneakers and high heels. To me a handbag is a practical accessory, I am not a bagaholic. I find it important not to overdo it when it comes to accessories, I prefer statement necklaces and sunglasses.
What is the most important for you – to look good?  
I think you can say that my style is casual/relaxed. I do however care about my hairdo, at least I try. I don't necessarily wear make up every day.
Do you have any favorite brands? Where do you shop mostly?
I like brands like Vila, mByM, Second Female, and I prefer to shop at Torrak Fashion, Butik 56 and at Sisimiut Sport. For the moment I am hooked on the newest boutique Butik 56, but when it comes to outdoor gear and sports wear, I prefer to shop at Sisimiut Sports.
Have you considered becoming a model?
I have done some modeling, but I have no desire to become a model, I am too short. But I think we should have our own standards here in Greenland when it comes to models since we have, at least in my opinion,  a lot of beautiful people who have the potential to become one.
What do you look at first, when you meet a man? woman? 
The first thing that attracts me about a person is his look, but definitely also his attitude.
Do you have any »idols« regarding style?
When it comes to international fashion, I like Chanel West Coast Style, I also like Street Style, but only when it has a feminine touch to it.
Hot or Not: 
Tattoos? Pretty hot, just not on the face.
Piercings? ok but not too many.
Other body decorations? Ear Gauging isn't my thing.
Hat's? If you wear a hat, wear it with an attitude.
Strong colors? A little color brings a sparkle to a style, but I am not a fan of loud colors.